---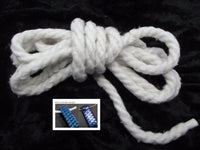 Fuse this fiber rope between layers of glass to create channels for stringing jewelry or hanging fused projects. 

* Rope is composed of 3 braided strands. 
* Rope strands can be unbraided into to get smaller channels or holes. 
* Sold in 8-foot lengths. 
* This is the nicest product of this kind I've found.  
* Withstands temps. to 2300°F (1260°C). 
* Easily cut with knife or shears.