---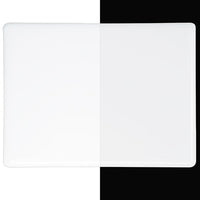 These double rolled glass sheets are great for stained glass, mosaic and fusing projects. Hand-rolled and controlled for mix consistency, with the unique patterning of true art glass. Many sheets are mottled before kiln firing. They are not a true solid color but have a mottled appearance.

Size: About 5x5" Sizes vary slightly from sheet to sheet.

Thickness: 3mm

Opacity: Opal

COE 90: Compatible with other 90COE Bullseye glass

IMPORTANT: Bullseye glass has a wavy edge up to an inch wide that is included in the measurements.

Style: Double rolled textured glass

What's a Striker? Matures to color shown when heated in a kiln. The cold color (color before heating) can vary greatly. This is not a striker.

Sizes are approximate. Most sheets are not perfectly square.

Photos are courtesy of the manufacturer. These are NOT photos of the glass you'll receive but a sample representation of the color. They are shown after being fired (melted) in a kiln.

Safety first! If this glass will be used for an item that will touch food, please make sure to read Bullseye's article on food safety here: www.bullseyeglass.com/wp-content/uploads/Food-Safety.pdf

When working with Frit (particularly Powder Frit), mixing kiln wash powder, or sweeping up glass (and any ensuing dust) it is recommended that you wear a Niosh approved face mask to filter out any fine particulate matter.

⚠ WARNING: This product can expose you to chemicals including lead and/or cadmium, which is [are] known to the State of California to cause cancer and birth defects or other reproductive harm. For more information go to www.P65Warnings.ca.gov.