---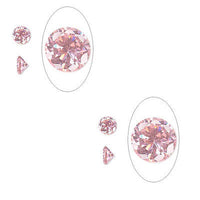 Excellent quality, sparkling cubic zirconia is perfect for all of your settings & precious metal clay projects. These are especially nice when used to accent your fused glass cabs fired in metal clays!
These cubic zirconia are well cut and sparkle like diamonds. Photographs are enlarged. Please see measurements.
Quantity: 2
Cut: Round
Color: Pink
Size: 6mm
Carat weights, if listed, are estimates.The mm sizes are more accurate, but when possible, I wanted to give an idea of the size in a diamond equivalent.
Computer monitors vary greatly. These show very true to color on my monitor, but yours may vary.
Firing CZs in Metal Clay Projects
CZs are beautiful in the clear form and look like diamonds. In the colored form they take on the color of the stones they imitate but have much more fire and brilliance than most natural stones.
Most of the colored CZs fire well. We have encountered a few CZs that have changed colors. For example, a red CZ may turn brown. You will need to experiment.
If you really want to try a stone to see if it will work, test your stone at 1472 degrees Fahrenheit for 30 minutes in the kiln before adding silver or gold.
You can set fine silver bezel wire into the Art Clay and fire it in place. Art Clay also has pure silver settings for certain sizes of faceted stones. After firing, place the natural stones using traditional jeweler's techniques.