---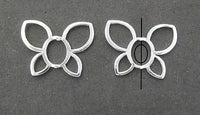 Showcase crystals, pearls and other beads in silver-plated pewter bead frames. Bead frames are components with an open area large enough to string beads though using a head pin, beading wire or other stringing material. Transform beads into fantastic earrings, pendants, ornaments and more. Silver plated bead frames highlight your lamp-worked beads, pearls, or stones.
Brand new and sure to be a customer favorite,  these bead frames look like silver for a fraction of the cost!
Inside diameter is approximately 12x9mm (use beads slightly smaller).
You will receive two pieces.