---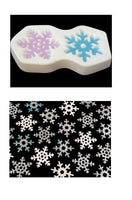 Snowflakes '14 creates snowflakes that are light and delicate, but are slightly larger and, of course, different than the previous years' Snowflakes.

The mold is about 8 by 4.5 inches (20.5 x 11.5 cm). 

The finished snowflakes are about 3.25 inches (8.25 cm) across. Each cavity holds 8 grams.

Use with Zyp spray glass separator for best results.

Molds can be used over and over with proper care.

Please measure your kiln before ordering.