---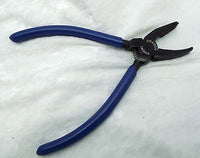 Thanks for checking out this great stained glass tool by Dragon Stained Glass Tools.  Get double the use out of this handy tool. When glass can't be handled comfortably by hand, use the breaking pliers to break glass along score lines. Turn pliers over and use as grozers to nibble glass away from edges.
The spring-loaded jaws work easily.   
Plastic dipped handles   
Strong forged metal   
6 inches long   
Tips are approximately 5/16 inch   
Factory fresh. 
Handy storage pouch.