---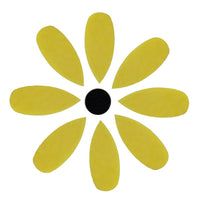 Size: 2 3/4" x 2 3/4" 

Design contains 9 individual glass pieces.

Glass Manufacturer: Bullseye Glass Company 
Opaque Sunflower Yellow - BE022030F 
Glass Thickness: 3mm 

Glass Manufacturer: Uroboros Glass by Oceanside Glass & Tile
Opaque Black - UR635690F
Glass Thickness: 3mm

© 2007 Ann Novotney 

Perfect for fusing and mosaics! 

Get Creative!

Use the daisy to make a fused platter or combine them with other glass flowers to create a flower mosaic or stepping stone.

Waterjet cut in the USA!
Safety first! If this glass will be used for an item that will touch food, please make sure to read Bullseye's article on food safety here: www.bullseyeglass.com/wp-content/uploads/Food-Safety.pdf

When working with Frit (particularly Powder Frit), mixing kiln wash powder, or sweeping up glass (and any ensuing dust) it is recommended that you wear a Niosh approved face mask to filter out any fine particulate matter.

⚠ WARNING: This product can expose you to chemicals including lead and/or cadmium, which is [are] known to the State of California to cause cancer and birth defects or other reproductive harm. For more information go to www.P65Warnings.ca.gov.