---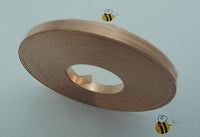 Re-strip is a strip like a ribbon 5/32" wide - made from copper.  It is used to reinforce stained glass projects made with lead or copper foil. Re-strip is sold in 25-foot rolls.
For Lead: The restrip is placed in lead channel during assembly. The panel must then be cemented to add strength and prevent the strip from twisting in the channel.
For Copper Foil: Strip is placed between foiled glass pieces before soldering. Once soldered on both sides of the panel the steel strip cannot be seen.