---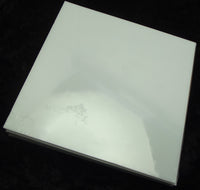 Spectrum glass is easy to cut, less expensive than other glass formulated for fusing, and is available in a huge variety of colors and textures.  We carry over  250 compatible items for your fusing workshop.  No glass will give you a more consistent result whether you're a beginner or advanced glass artist.

This pack contains six sheets of 3mm white opal.  Sheet sizes vary slightly. Most are longer on one side.
Made by Oceanside Glass & Tile Mexico for Spectrum System 96. This glass is also branded Oceanside Compatible.