---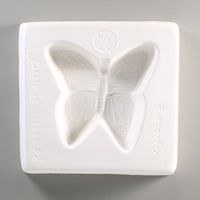 This finely detailed butterfly mold measures about 5 3/4" inches square and is perfect for smaller kilns.   
Made in the US by Creative Paradise, this sturdy earthenware mold will last through many, many firings.  
Important: For standard electric glass kilns only. Do not use in a microwave kiln.  Always use a quality primer such as Zyp spray.
Butterfly is a large 4x4" at the widest parts (approximately).
This is a substantial mold. Shipping weight is one pound eight ounces.