---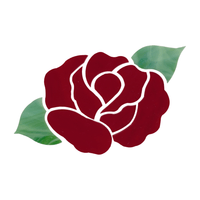 NOT FUSIBLE

Size: 5 3/4" x 3 1/4"

Design contains 10 individual glass pieces.

Glass Manufacturer: Oceanside Glass & Tile
Opaque Green/White Wispy - SP3276
Glass Thickness: 3mm

Semi Opaque Red/White Wispy - OGT3591SF

© 2001 Ann Klos

Way, way back this was one of our first precut glass clusters and in all that time it hasn't changed. The distance between glass pieces is the perfect distance for grout. 

Get Creative!

Combine both Mosaic Roses for a stunning mosaic.

Waterjet cut in the USA!

Combined shipping is easy! Just put your items into the shopping cart and they'll calculate automatically!