---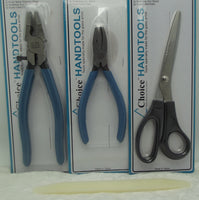 Sale
This kit contains one each:
Breaker Grozer Pliers: Glass breaking and grozing pliers are a must for any stained glass studio. These are really two pliers in one. Breaking pliers for breaking glass along a score line, especially in inside curves and grozing pliers for nibbling off excess glass and sharp edges.

Foil Shears: Foil shears are special three bladed scissors that remove a tiny strip of material when cutting out patterns for stained glass fabrication. Foil shears remove enough material to make up for the foil that will go between the pieces of glass so your project doesn't "grow" as you assemble it.

Line aka Running Pliers: Running pliers derive their name from their unique curved jaw design which forces a score to "run" and break with incredible ease. Just position at the end of your score line and squeeze. The curved jaw exerts equal pressure on each side of the score so that your glass will break cleanly. Screw adjusts to any thickness of glass. Eight inches long with 1" rubber coated tips. (The rubber tips are replaceable.)

Flat Fid: These handy flat foiling fids are made of stiff nylon and measure about eight inches long. They can be used for foiling, burnishing stencils, folding letters for bulk mailings and for creating origami.